Now With a Community of 40,000+ Strong, Using EasyVSL The #1 Video Sales Letter Creation Software Now Bigger and Better
The #1 Most Innovative and Easy-to-Use Video Creator Online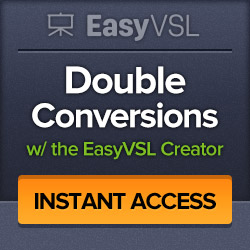 Studies show that video promotion is 600% more effective than print and direct mail combined. But video promotion is ZERO% EFFECTIVE if you don't have the time or ability to make videos!
Imagine being able to create a professional, dynamic, effective online video in the time it takes you to write script. How much more productive could you be? How many more sales could you close? How much more money could you make? The possibilities are endless!
EasyVSL is an easy to use software package that lets virtually anyone quick and easy create slick, professional Sales Videos and Video Sales Letters.
Even though these videos are fast and easy to make, your customers and prospective clients will think you spent days professionally producing them! That's right – we're talking attention grabbing transitions, custom fonts, dynamic images – all created with one easy-to-use program!
If you can write a script and click a mouse, you can create sales videos that will blow your competition out of the water!
The best part? This game-changing software is currently only $97 (Then just $9.99/mo) and it's backed by a 30 day money back guarantee! Don't delay, this introductory offer is not going to last.
Click the video below to learn more, and to take advantage of this limited time deal!
Easily Make Professional, High-Converting Videos in Seconds!
Create better, faster, easier, & automated videos
Easy video sales letter creation… unlike
anything you've seen!
Are your sales videos TANKING…?
Want better results from your sales videos or Video Sales Letters (VSLs)?
If you are a lot like me…
…you don't want to have to pay hundreds or thousands on a
professional to create high-converting videos.
…you don't want to spend all day messing around with
complicated software.
…you don't want to waste time and energy creating videos that
don't generate leads and sales.
Well – good news Mark Thompson and Matt Callen – two of the
best in the biz for creating amazing software for marketers have created a
SIMPLE, yet effective software for creating sales videos fast & easy.
…oh yeah – and most importantly, actually CONVERT!
Its called EasyVSL and it has recently been updated with sweet robust features including "Speach To Text", "Text To Speach", "Voiceover Auto Sync". You also get Instant access to over 1,000,000 Royalty Free Images/Graphics, a Library of Over 75 Templates.. & so mucn more.
Here is what EasyVSL can do…
– Creates Easy and Powerful Sales Videos & Video Sales Letters
– Easy presentation style videos, faster then using
Powerpoint and way better quality!
– Point & Click Easy – Learning Curve is in Minutes
– Over 75+ Professional Slide Themes/Backgrounds
– Powerpoint-Easy Text & Graphics Editing
– Over 30+ Fonts
– 1,000,000 Royalty Free Images/Graphics
– Eye-Popping Slide Animation Options
– Easy 1-Click Audio/Slide Sync
– Upload-Ready, HD Quality Export in MP4 Format
– Direct Upload to YouTube Account
– Manage all VSLs in one Interface
– Save Hours, Even Days Creating High-Converting VSLs!
The best part is EasyVSL is Adobe Air based, which means is
runs smoothly on both Mac and PC.

Watch a live demo of EasyVSL, plus see all of the features above
in action.

This is currently available at an extremely low price.
However this price will not be available for long.
For a short time you can get a LIFETIME copy of
EasyVSL, creating an unlimited number of videos at a ONE-TIME investment.
NOW is the time to grab your copy – before the price
sky-rockets!

Learn More Now!

To your success,
Rickster
If you can type, you can easily create a
high converting video sales letter (vsl) in less
than 30 minutes, it's INSANELY easy to make.
How Important Is Making A Sale To You? Are you ready to
double, or even TRIPLE your opt-ins and conversions?
Are you struggling with your marketing and loosing sales?
If you want to boost your conversions rates by up to 100%…
Or if you just want to be able to create VSLs (video sales letters) quickly and easily… the answer os EasyVSL!
Ok… You ask "how much" for the easy to use VSL creator..
The answer is…
We selected a price that would still be affordable to anyone serious about their marketing, and who want the freedom for their businesses that we have been fortunate to achieve.
That's why we are not going to ask you to invest $500 today… or $300… or even $200 today…
And I'm quite sure that you would agree, that spending $200 on a tool that has a track record of producing better sales letters and VSLs than other video products out there is would be more than fair… correct?
However, your investment today isn't even half of half of
HALF of the top price others have suggested we should price this for…
in fact it's not even less than half of $200…
For a limited time, you can get your hands on this automatic video sales letter machine for a one time price at 51% OFF.
In fact we're so confident you're going to love EasyVSL that we're going to guarantee your results for you.
We're putting our money where our mouth is.
For a limited time the cost is… Wait for it!
$97.00 (Then just $9.99/mo). Get It Before The Price Goes Up!.