Easy VSL WIll Save You Valuable Time
&

Increase Your Conversion Rates
WANT TO CREATE AUTOMATIC VSLs… MAKE THEM UNIQUE TO YOUR PRODUCTS… AND… PRODUCE
THEM IN MINUTES – NOT DAYS OR WEEKS?!
EasyVSL is the fastest and easiest way to transform your sales message, using a simple and intuitive point-and-click interface to create professional looking and effective VSLs in the least amount of time possible.
EasyVSL is: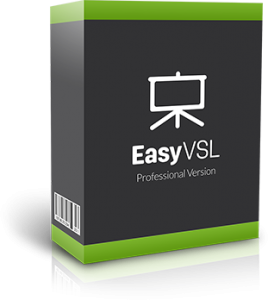 -Faster than PowerPoint (In fact it's 95% FASTER!)
-Easier than video editing (no training necessary!)
-More affordable than virtually anything else on the market today.
-Backed by a 30 day money back guarantee!
Imagine this: you can transform your video script into a polished, professional Video Sales Letter in a matter of minutes!
While your competition is taking days and weeks to produce and edit their video,
you'll already be live and closing sales. Think of the edge you'll have!
The best part? If you're not convinced that EasyVSL is the easiest, most effective, most professional, most cost efficient way to create your videos, return it within 30 days for a no-questions-asked full refund!
But don't delay, this amazing offer won't last.

Order EasyVSL today!